URL to MP3 Converter

Too slow?
Speed up with pro Music downloader - AnyVid >
Easy Guide for Novices on
How to Convert URL to MP3
Follow the instructions and convert link to MP3 online for free.
Copy the video or song's URL you want to convert. Then head over to our URL to MP3 Converter website to paste copied URL to the search bar.

Hit the "Download" button, and choose an MP3 quality. Instantly, the music that you desire to download has been downloaded for free.
If You Want
High-Quality Music Download
Are you eager to convert URL to MP3 in the best quality for offline listening or background music in a video? Owing to the high server costs, there are some limits that we have to set on the link to MP3 downloads. To download sound quality music, you can resort to the advanced version of our URL to MP3 Converter – AnyMusic Downloader, which will not compromise the original music quality in the process of music download. You have access to enjoy 320kbps URL to MP3 conversion. In addition, it can download MP3 music in bulk at 3X speed. There are more powerful features that deserve your try!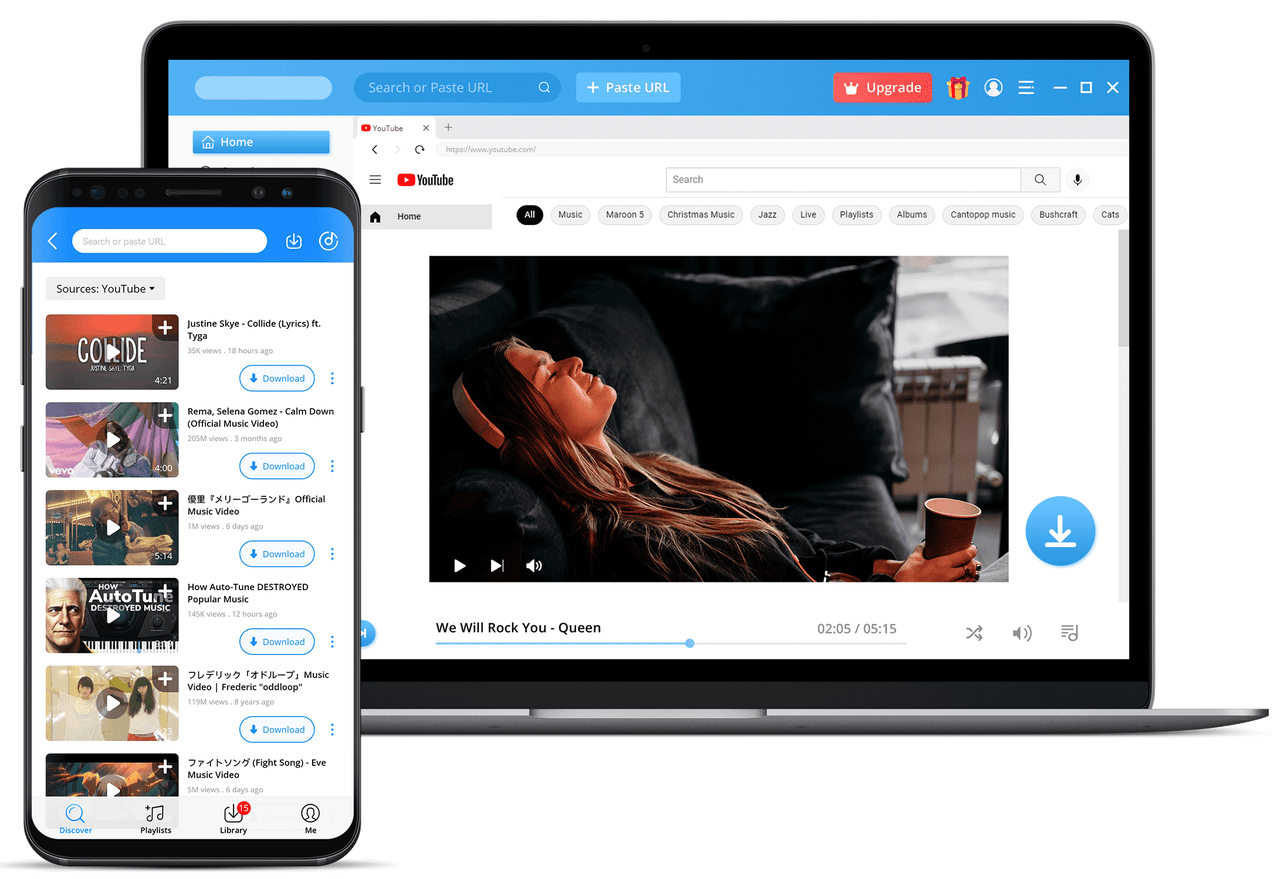 Try It free
Compare Free & Premium music downloader >
·

Unlimited downloads
3 downloads/day

·

High mp3 quality 320kbps
Up to 128kbps

·

Long soundtrack download
Up to 10 minutes

·

Batch download 200+ songs

·

Support 1,000+ websites
About the
Link Music Downloader
Our URL to MP3 Conveter is the best online tool to download MP3 music for free. You can convert any link to MP3 with ease. Just put URL in the search box, then you will enjoy downloading MP3 music at rocket-fast speed. Furthermore, it is completely free and safe, so there are no security worries. You are not required to sign up or log in when using our MP3 music converter. The most excellent thing about our link music downloader is that it allows you to convert URL to MP3 from more than 500 websites. Go to the page to have a greatly impressive music download experience.

Why Choose
URL to MP3 Converter

?
Convert URL to MP3 for Free

With the aid of our URL to MP3 converter, you can convert song or video link to MP3 at no cost. Sign up is unnecessary and there is no latent charge when converting URL to MP3. In short, it is a completely free solution to MP3 music offline listening.

Online MP3 Music Converter

The easy MP3 music converter comes with an intuitive and straightforward interface which is a great assistance for beginners to get the hand of how to convert URL to MP3. What you need to do is paste the URL of the song or video you intend to convert.

Compatible with All Devices

The link to MP3 converter is such a flexible tool that users can utilize to convert link to MP3 online on Windows/Mac, mobile phones and more. What's more, it is capable of working smoothly with various web browsers, such as Chrome, Edge, and IE.

Fast Convert Link to MP3

Our link music downloader excels at downloading music in a matter of seconds for the purpose of saving users' time. Once you enter URL in the search box, it will finish MP3 conversion at lightning speed which no other MP3 converter can match.

Convert Video to MP3 by URL

The online URL to MP3 downloader is a 100% safe website that is free from any security risks. You will never see any distracting ads popping up on its page and will not be attacked by malware and viruses when you convert video to MP3.

Convert URL from 500+ Sites

Supported by a strong technology team, this link to MP3 converter will let music enthusiasts download MP3 music for free from more than 500 trending music streaming websites and social media, such as SoundCloud, Bandcamp, Facebook, etc.
FAQs About Free URL to MP3 Converter
Rate Us Now!
If you like our music downloader, please give us 5 stars.
Last updated: 2023-06-01